Web sites that work, back end systems and social media connectivity, we do it all.
Take a Look
From simple brochure design to full marketing campaigns we can make what you need to make happen, happen.
Learn More
Do you need to tell your story in action? Talk to us and we can tell you how we can make it happen.
Check It Out
Web site, marketing & video Kitchener Waterloo Cambridge
Digital North media is the design company of choice for companies looking  for the best in Websites, Marketing and Video in the Kitchener Waterloo Cambridge and Guelph area. If you need to share your idea, make the phone ring or have to get your message out to the world we can help. From small startups and family businesses to large corporations we focus on crafting solutions that fit your needs and targets.
Call us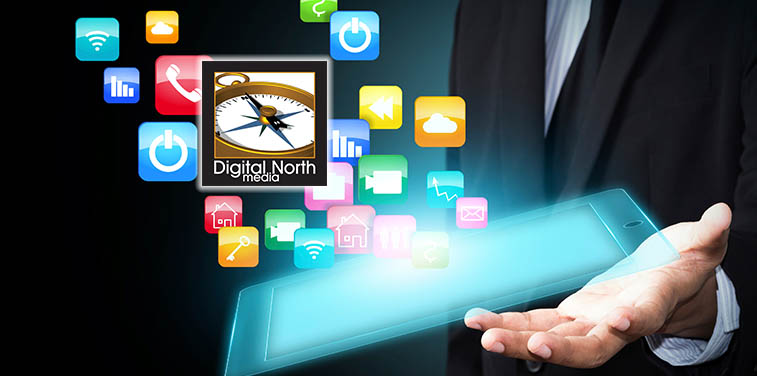 Web Design, Print, Video & Marketing
Your "in house", out of house solution to your Marketing needs
View More
From Web design and web development or content management , to graphic design and print, to Brochures, Posters and PowerPoint and Video Production we have you covered.
Talk to us about your project, you'll be happy you did!
Digital North is a multi service agency specializing in Web projects that run the gambit from simple websites to integrated online and offline campaigns. We create Marketing that ties together Print, Video, and the Web to make your vision come to life.
"The professionalism, expertise and attention to detail shown by Digital North, at times under immense pressure, were exceptional. Greg and his team are highly capable and always flexible to meeting our needs; which with the size and complexity of the project was no doubt a considerable challenge. I highly recommend Greg and his team to anyone considering the services of Digital North."
"You certainly have delivered the product we wanted, on time and with no complaints from us. We obviously picked the right media/promotion firm to do the work. "
"I would like to thank you for all your hard work on our new OYAP marketing. I have had many compliments about it and the number of responses has definitely increased over the previous material. Response from parents and students in particular has definitely improved since the new website has gone on-line. I attribute this to the site being easy to use, eye catching and full of the right kind of information. We have even had a few school boards ask to use some of our website information on their own websites. This I find quite flattering.
"Digital North has been able to capture the 'essence' of the credit union and translate it into highly effective media. Our relationship with Digital North is great – they are highly responsive and a pleasure to work with."
"We relied heavily on them as the festival drew closer and our needs became more demanding as our peak volume time was upon us. Each time Digital North media met us more than half way, going the extra step to ensure our website was operating at peak performance, with all the information and services our festival-goers could need or want. More than just a service provider, they were our partner and advocate; our goals were their goals, our needs were their needs."
"With very tight deadlines and a number of challenges in front of them, Digital North media rose to the occasion and worked with us to create a new look for Kitchener-Waterloo Oktoberfest on the web."
"Wow! On time and on budget! What a concept! I just wanted to thank everyone for all the good work which has been done on this project. The commitment is obvious in the end product."
"Digital North is a professional group with the ability to make you feel like you are the most important project they are working on. They are able to go with the flow and not get frustrated with the changes we requested. "
"Digital North has done a remarkable job taking our pencil scratched notes and vision, and has delivered us exactly what we were looking for. At the same time they have opened our eyes to the workings of the Internet and what it can do for us, always with another idea, option or opinion for something to add, or how to make one of our pages better."
"The team at Digital North comes through all the time with cost-effective, creative media solutions! They are excellent to work with and they have enhanced our marketing from video to website design for many years."
"We hired Digital North to design a web site for us that was easy to populate and didn't require us to hire additional staff. Mission accomplished, for more than a decade their team handled our web site needs as we grew the site to keep pace with the innovations that seemed to take place every day on the web. "
"Their team is very professional and can deliver a great product. I would recommend his services to anyone."
"Digital North were instrumental in help CTV in Soutwestern Ontario develop a web program to serve our viewers. His input was always valuable and his end result effective."
"I have hired Digital North to design and implement am interactive web site. They have been consistently able to grasp the needs and translate them into workable plans, they have always have made themselves available in expedient fashion whenever the needs arise."
"Working with Digital North has been a great experience. They created our logo and website. The logo is brilliant. The website looks great, is easy to navigate as well as maintain and update. Overall, Digital North provided creative solutions and excellent service all at a reasonable cost."
"I highly recommend Digital North for your video and graphics work. The always provide great service and exceptional quality and keep conscious of staying within budgets and working to deadlines."
"Whether we were recording footage in a warm studio or outside on a freezing cold farm, The team at Digital North is always professional and focused on creating the exact results that we needed."
"I have worked with Digital North for many years and we have always achieved good results."
"It was hard to choose only three top attributes, as Greg and his team are also Personable, provide Excellent Value, are always On Time, and their Integrity is second to none. They are great to work with, exceptionally creative, while always practical at the same time. They make the development process fun and engaging. "
"Digital North are talented artists and programmers whom I have worked with for the past 18 years. They get to know the customer and their needs to bring about a product that is of superior quality."
"We have worked with Digital North for a number of years. They are creative, professional, service oriented and have always delivered results on the initiatives we have started. I'd highly recommend them for any of your marketing needs."
Twenty Five years.I never would have imagined that after all this time Digital North is still going strong.Hundreds of websites, backend systems, marketing campaigns, brochures, logos and videos.We have produced a huge amount of work in those years. Thank you to everyone, clients, friends, family and staff – past and present, we couldn't have done it

For the 5th year in a row Digital north has be nominated in the categories of Favourite Web Company , Favourite Marketing Agency and Favourite Video Producer in the Records Peoples Choice awards. This year we took top Diamond honours in 2 of those categories. Top Marketing and Top Video Company! Huge thanks goes to our clients,

Like the shoe makers children, we tend to ignore our own marketing, but we finally managed some time to make some updates. Enjoy the new site and new portfolio on behance.